Considerada una de las principales precursoras del movimiento femenino en la música urbana, Natti Natasha destaca el poder de la mujer en todos los ámbitos.
En 2022, la estrella dominicana hizo historia tras convertirse en la primera artista femenina con más canciones en el Top 10 de la lista Latin Rhythm Airplay de Billboard, marcando su décimo sexta (16) canción en la lista con su éxito global "Mayor Que Usted". Después de reunir decenas de certificaciones de oro y platino, acumular más de 23 mil millones de reproducciones y acumular más de 16 mil millones de vistas en YouTube de su catálogo, Natti regresa con un excitante capítulo que sus fanáticos han estado esperando. En un género musical que estuvo liderado por hombres, Natti Natasha llegó para romper estereotipos y demostrar que las mujeres pueden liderar el reggaeton. De igual forma, utiliza su plataforma para inspirar a jóvenes y niñas a ir tras sus sueños y no limitarse a las imposiciones sociales. En la época actual, luego de ella, otras mujeres se abrieron camino en la industria de la música urbana y han creado un movimiento femenino poderoso. Natti Natasha y las colaboraciones siempre han resultado en un éxito rotundo, sin embargo el público le pedía con urgencia un tema en solitario. Natti Natasha no lo pensó dos veces y previo al fin de año 2022 le regaló a sus fieles seguidores el tema y video musical "To' Esto Es Tuyo", lanzado en su cumpleaños en Diciembre. El tema incluye una fusión explosiva de bachata guajira (típica de República Dominicana), dembow y sonidos electrónicos/techno que ha encendido al público de todo el mundo. Esta canción lideró la lista Hot Songs – General de Monitor Latino, debutó en el Top 2 de Spotify en Nicaragua, Panamá y República Dominicana. En 2022, también encendió el verano con una colaboración única y sin precedentes, "Mayor que usted", junto a Daddy Yankee y Wisin y Yandel. Uniendo a cuatro de las voces más reconocidas en la música latina, el tema es un reggaeton explosivo que transmite energía y una fuerza innegable. Este lanzamiento explosivo fue tan solo el comienzo de la conquista de Natti Natasha en 2022, que entró más adelante en su segunda fase con el lanzamiento de otra colaboración global "Lokita", con una de las exponentes femeninas más populares de Argentina, María Becerra. Ahora, continúa donde lo dejó en su segundo álbum, NATTIVIDAD, que lanzó en el 2021, y debutó como el "álbum más escuchado" en múltiples plataformas digitales, como también generó múltiples No.1 radiales en Estados Unidos y México, incluyendo "Antes Que Salga El Sol", "Las Nenas", "Ram Pam Pam", "Noches en Miami" e "Imposible Amor". Junto con el álbum, fue productora ejecutiva de la serie original de YouTube, BRAVA, protagonizó la popular serie documental Everybody Loves Natti en Amazon Prime Video y se convirtió en la primera artista latina en lanzar su propia marca de vino espumoso, TASHA. Como una embajadora de marcas, Natti fue portavoz de los cosméticos MAC para la campaña "Baile de Ojos" junto a Pabllo Vittar; campaña "Beats of Pandora" para joyería Pandora y se unió a la campaña Restaurant Strong Fund de Grubhub, fondo que le otorga ayuda a restaurantes y sus trabajadores afectados por la pandemia. Sin lugar a dudas, ella ha pasado toda su vida trabajando para llegar a este punto. Nacida en Santiago de los Caballeros, República Dominicana, Natalia Alexandra Gutiérrez se mudo al Bronx, Nueva York a los 18 años de edad para seguir sus sueños de convertirse en artista. En ese momento, sus mayores influencias musicales incluyen a Lauryn Hill, Bob Marley, Ivy Queen y Jerry Rivera, entre otros. Mientras vivía en Nueva York, conoció a la estrella del género urbano Don Omar, y en dos años había firmado su primer contrato con un sello. Colaboró en el éxito global "Dutty Love", que fue nominado a cinco Premios Billboard de la Música Latina y ganó "Canción del año Latin Rhythm Airplay" (2013). Más adelante, lanzó su primer EP "All About Me". En 2017, Natasha firmó un contrato exclusivo con el principal sello independiente de Puerto Rico, Pina Records, ¡y no se imaginaba que su mundo estaba a punto de cambiar! Su primer sencillo bajo Pina Records, "Criminal" junto a Ozuna, entraría en la lista Hot 100 de Billboard y alcanzaría la posición #5 en la lista Hot Latin Songs. "Criminal" se convirtió en uno de los 10 videos más vistos, convirtiendo a Natti Natasha en la primera artista femenina del género urbano latino en superar las 2 mil millones de vistas. El éxito global del sencillo le prepararía el camino para formar parte de una tormenta perfecta de colaboraciones estelares, inspirando un nuevo movimiento en la música latina encabezado por Natasha e impulsado por mujeres. Después de colaborar en "Amantes de Una Noche" con Bad Bunny, Natasha lanzó el poderoso himno femenino "Sin Pijama" junto a Becky G, marcando el poder de las artistas urbanas latinas en un género liderado mayormente por hombres. Además de entrar en la lista Hot 100 de Estados Unidos, "Sin Pijama" fue el debut más grande de Natasha en la lista Hot Latin Songs, alcanzando la posición #4. El sencillo fue certificado Diamante (38x Platino) en los Estados Unidos y el video se convirtió en el video más visto de una artista femenina ese año. Inmediatamente después de dos éxitos mundiales, Natti Natasha se unió a Daddy Yankee, Bad Bunny y Becky G en "Dura Remix", que se convirtió en la canción #1 en ventas en Estados Unidos, seguido por su colaboración en "No Me Acuerdo" de Thalía, cuyo video cuenta con más de 1.4 mil millones de vistas. Los éxitos mundiales consecutivos ayudaron a Natti generar más de 4.5 mil millones de vistas superando a Ariana Grande, Dua Lipa, Camila Cabello, Taylor Swift y Cardi B durante dos años. Natti culminó el 2018 ocupando el Segundo Lugar de la lista de fin de año de Billboard como "Top Female Latin Artist" con un total de 8 exitosos sencillos en la lista Hot Latin Songs y generando más de 838 millones de reproducciones en una sola plataforma digital. En 2019, el esperado álbum debut de Natti Natasha "ilumiNATTI" obtuvo múltiples sencillos #1, convirtiéndolo al instante en un éxito global. El álbum debutó #1 en las listas digitales en Estados Unidos y está certificado multi-platino con más de 1.3 mil millones de reproducciones. Natti uniría fuerzas con la superestrella dominicana Romeo Santos para lanzar la versión remix de "La Mejor Versión de Mí". El sencillo alcanzó la posición #1 en cuatro listas de Billboard Latino simultáneamente, permaneció #1 en dos listas de la revista Billboard Latino por nueve semanas consecutivas, convirtiéndose en la canción #1 en ventas en el país. Proclamada como "una de las voces dominantes de la nueva era" (The Fader), Natti Natasha se ha convertido en una fuerza indiscutible en la música moderna. Su éxito la ha llevado a participar en grandes colaboraciones incluyendo "No Lo Trates" (Pitbull, Daddy Yankee), "Runaway" (Sebastian Yatra, Daddy Yankee, Jonas Brothers) e "Instagram" (Dimitri Vegas & Like Mike, David Guetta, Daddy Yankee & Afro Bros). Natasha cerró el 2019 con una bomba, obteniendo cuatro sencillos #1 ("La Mejor Versión de Mi (Remix)", "Me Gusta", "No Lo Trates" y "Runaway"). En el 2020, mientras el mundo se enfrentaba a una pandemia global sin precedentes, Natti Natasha se adaptó rápidamente a la nueva norma y no mostró señales de detenerse. Sus sencillos "Despacio" y "Que Mal Te Fue" crearon una tormenta global en las redes sociales, generando un total de 217 millones de vistas en el video. "Que Mal Te fue", inspirado durante la cuarentena, convirtió a Natasha en la artista #1 en redes sociales, superando a Selena Gomez y Dua Lipa, entre otras. También se unió a la popular banda de chicos, CNCO, para lanzar el tema "Honey Boo" y colaboró con el artista de trap argentino KHEA y el cantante dominicano Prince Royce en el hit global "Ayer Me Llamó Mi Ex (Remix)". Además de brindarle a los fanáticos un escape de las luchas diarias debido a la pandemia, Natti participó en múltiples esfuerzos para contrarrestar el impacto del COVID-19, incluyendo la iniciativa "Un mundo: Juntos en casa" (One World: Together at Home), para apoyar a las familias en su ciudad natal Santiago, República Dominicana proveyéndoles productos esenciales junto a la Fundación Pedro Martínez y prestó su voz para el himno mundial "Resistiré", cuyas ganancias ayudaron a familias de músicos en República Dominicana. Además, como defensora de la educación, se unió a la Fundación de la Herencia Hispana como nueva portavoz de CSL (Código como segundo idioma) en Español. Como una de las artistas femeninas más cotizadas, Natti regresó en 2021 con un renacimiento tanto artístico como personal. Arrancó el 2021 con otro sencillo número 1 en las listas Latin Airplay y Latin Pop Airplay de Billboard, "Antes Que Salga El Sol" junto a Prince Royce, y reveló en televisión nacional el regalo de ser madre por primera vez. Al estilo más puro de Natti Natasha, celebró el Mes de la Mujer con el explosivo tema "Las Nenas" junto a Cazzu, Farina y La Duraca, donde por primera vez unió a cuatro voces femeninas del género urbano, mostrando que la unión entre las mujeres continúa más vigente que nunca. El video cuenta con más de 120 millones de vistas, más de 87 millones de reproducciones y el tema ha generado más de 1.4 millones de videos creados por los usuarios de Tik Tok. Poco después, Natti celebró el tercer aniversario desde que unió fuerzas con Becky G para crear el himno global de empoderamiento femenino "Sin Pijama", tema que cambió el rumbo de la música latina para siempre. Bajo el sello de Pina Records/Sony Music Latin, estas dos estrellas latinas se reunieron nuevamente para crear otra combinación perfecta con "Ram Pam Pam" para continuar la esencia del movimiento que ellas comenzaron, ¡al ritmo de más de 627 millones de vistas y contando! Desde sus colaboraciones estelares con Daddy Yankee, Ozuna y Becky G, a dos álbumes que encabezaron las listas latinas [ilumiNATTI, NattiVidad], Natti Natasha ha creado algunos de los momentos en tendencia y más memorables en la música latina, y es una fuerza que se debe reconocer. En febrero de 2022, Natti lanzó una colaboración histórica con las estrellas dominicanas El Alfa y Chimbala, creando uno de los primeros éxitos del año, "Wow BB". La colaboración representa la unión de la cultura dominicana en todo su esplendor, celebrando el ritmo y la energía que solo puede producir la unión de estas tres potencias dominicanas, mostrando al mundo de qué se trata el Orgullo Dominicano. Natti llegó al verano de 2022 con una colaboración histórica junto a Daddy Yankee y Wisin & Yandel, "Mayor que Usted", que se colocó en la posición #1 en Latin Airplay de Billboard y Latin Rhythm Airplay, convirtiéndola en la cuarta artista femenina con más sencillos número 1 en la lista Latin Airplay de Billboard. Hizo lo mismo con un llamado a todos los países latinoamericanos con el himno mundial "Lokita" y su explosión musical en solitario más reciente, "To' Esto Es Tuyo". Una preparación definitiva para lo que viene este 2023. Como una artista cuya música trasciende el tiempo, Natti ha roto los estigmas con poderosos mensajes de empoderamiento y creando una conexión profunda con los fanáticos al mostrar un gran compromiso con su cultura, convirtiéndose, sin lugar a duda, en una de las artistas latinas más influyentes de esta generación. Todo el año es la temporada de Natti Natasha.
Natti Natasha, una de las voces dominantes de la nueva era.
*English Version
Natti Natasha Bio – English
The temperature rises whenever Natti Natasha releases new music. It just seems to get hotter in the culture when she kicks off another chapter. However, 2022 might just be her hottest season yet. After gathering dozens of gold and platinum plaques, piling up 23+ billion streams, and amassing 16+ Billion YouTube views of her catalog, she returned with an explosive chapter that fans have been longing for.
Natti ignited summer 2022 with an unprecedented collaboration and No. 1 global hit, "Mayor que usted", concocting a once-a-lifetime collaboration with Daddy Yankee and Wisin & Yandel. The track united four of the most recognizable voices in Latin music on one reggaeton banger with no shortage of energy and undeniable swagger. This explosive release kicked off Natti Natasha's 2022 takeover, which entered into a second phase with the release of the explosive global collaboration "Lokita" with one of Argentina's hottest female exports, Maria Becerra and her recent epic birthday track "To' Esto es Tuyo", an explosive fusion of bachata guajira (typical to Dominican Republic), dembow and electronic/techno sounds that's set to electrify and move audiences around the world. The track led different charts including Monitor Latino's Hot Songs – General, debuted in the Top 2 in Spotify Nicaragua, Panamá and Dominican Republic.
It picks up where she left on her 2021 sophomore album, NATTIVIDAD, which became "the most-listened to album" on multiple digital platforms, and produced multiple #1 radio hits in the U.S. and Mexico, including "Antes que salga el sol", "Las Nenas", "Ram Pam Pam", "Noches en Miami" and "Imposible Amor". In tandem with the record, she executive produced the eight-episode YouTube Original Series, BRAVA, starred in the popular docu-series Everybody Loves Natti on Amazon Prime Video and became the first Latin artist to launch her own sparkling wine brand, TASHA. As a brand ambassador, Natti was a spokesperson for the MAC cosmetics campaign "Baile de Ojos" with Pabllo Vittar, Pandora jewelry's "Beats of Pandora" campaign and joined Grubhub's Restaurant Strong Fund, helping provide aid to restaurants and workers affected by the pandemic.
However, she's spent her entire life grinding to get to this point.
Born Natalia Alexandra Gutiérrez Batista in Santiago De Los Caballeros, Dominican Republic, at 18 she moved to the Bronx, NY to follow her dreams of becoming a recording artist. At the time, her biggest musical influences included Lauryn Hill, Bob Marley, Ivy Queen and Jerry Rivera, among others. While living in New York, she met Latin urban star Don Omar, and within two years had signed her first label contract. She appeared on the global hit "Dutty Love", which was nominated for five Latin Billboard Music Awards and won for "Latin Rhythm Airplay Song of the Year" (2013). Thereafter, she released her first EP "All About Me".
In 2017, Natasha signed an exclusive deal with top Puerto Rico independent label, Pina Records, and little did she know her world was about to change! Her first single under Pina Records, "Criminal" with Ozuna, would enter Billboard's Hot 100 and peak No. 5 on the Hot Latin Songs. "Criminal" became one of the Top 10 most watched videos, making her the first Latin urban female artist to surpass 2+ billion video views. The global appeal of the track would set the stage for a perfect storm of "all-star" collaborations that would inspire a new movement in Latin music, spearheaded by Natasha and powered by women.
After collaborating on "Amantes de una noche" with Bad Bunny, Natasha unleashed the powerful female anthem "Sin Pijama" with Becky G, marking the power of Latin female urban artists in a mostly male-dominated genre. Aside from breaking into the U.S. Hot 100 chart, "Sin Pijama" was Natasha's highest debut on the Hot Latin Songs (peaking at No. 4). The single would be certified Diamond (38x Multi-Platinum) in the U.S. and the video became the most watched video by a female artist that year.
Off the heels of two massive global hits, Natti Natasha joined Daddy Yankee, Bad Bunny and Becky G on "Dura Remix", which became the No. 1 selling song in the U.S., and followed with her collaboration on Thalia's "No Me Acuerdo", whose video has surpassed 1.4+ billion views. The back to back global hits helped Natti earn 4.5+ billion views, helping her outrank Ariana Grande, Dua Lipa, Camila Cabello, Taylor Swift and Cardi B for two consecutive years. Natti closed 2018 as the No. 2 Top Female Latin Artist on Billboard's year-end chart with a total of eight hit singles on Hot Latin Songs and earned over 838+ million streams on one single streaming platform alone.
In 2019, Natti's anticipated debut album "ilumiNATTI" spun multiple No. 1 singles, and became an instant global success, debuting No. 1 on digital charts in the U.S. and certified multi-platinum with over 1.3+ billion streams. Natti would then join forces with Dominican powerhouse Romeo Santos to release the remix version of "La Mejor Versión de Mi". The single peaked No. 1 simultaneously on four Billboard Latin charts and Mexico, remained No. 1 on two U.S. Billboard Latin charts for nine consecutive weeks, becoming the No. 1 selling song in the country.
Pinned as "one of the new era's dominant voices" (The Fader), Natti Natasha is well on her way to becoming an indisputable force in modern music. Her success led her to high-profile collabs including "No Lo Trates" (Pitbull, Daddy Yankee), "Runaway" (Sebastian Yatra, Daddy Yankee, Jonas Brothers) and "Instagram" (Dimitri Vegas & Like Mike, David Guetta, Daddy Yankee & Afro Bros). Natasha closed 2019 with a bang, garnering four No. 1 hit singles ("La Mejor Versión de Mi (Remix)", "Me Gusta", "No Lo Trates" and "Runaway").
In 2020, as the world faced an unprecedented global pandemic, Natti Natasha assimilated quickly to the new norm and showed no signs of slowing down. Her singles "Despacio" and "Que Mal Te Fue" set a global social media storm, generating a combined 217+ million video views. Quarantine-inspired "Que Mal Te fue" made Natasha the #1 artist on social media, outpacing Selena Gomez and Dua Lipa, among others. She also joined the popular Latin boy band CNCO on "Honey Boo" and Argentine trap artist Khea and Dominican singer Prince Royce on the global hit "Ayer Me Llamo Mi Ex (Remix)".
Aside from giving fans an escape from modern day struggles due to the pandemic, Natti participated in multiple COVID-19 efforts, including the "One World: Together At Home," supported families in her hometown of Santiago, DR by providing essentials alongside the Pedro Martinez Foundation to support families and lent her voice to the global anthem "Resistiré", whose proceeds helped families of musicians in the Dominican Republic. Also, as an advocate for education, she joined the Hispanic Heritage Foundation as their new spokesperson for the CSL (Code as a Second Language) en Español
As one of the most sought-after female artists, Natti returned in 2021 with both an artistic and personal rebirth. She kicked off 2021 with another No. 1 Billboard Latin Airplay and Latin Pop Airplay No. 1 single, "Antes Que Salga el Sol" with Prince Royce, and revealed on national television the gift of becoming a mother for the first time. In true Natti fashion, she celebrated Women's History Month, with an explosive global female anthem "Las Nenas" together with Cazzu, Farina and La Duraca, where for the first time she united four female Latin urban voices, showing that the union between women continues to be stronger than ever. The video surpassed 120+ million views, 87+ million streams and generated over 1.4+ million user generated videos on Tik Tok. Shortly after, Natti celebrated the three-year anniversary since she joined forces with Becky G to create the global female empowerment anthem, "Sin Pijama", which changed the course of Latin music forever. Under Pina Records/Sony Music Latin, the Latin stars met again to create another perfect combination with "Ram Pam Pam", continuing the essence of the movement they created, to the tune of 627+ million views and counting!
From her record-breaking collaborations with Daddy Yankee, Ozuna and Becky G, to two Latin chart topping albums (ilumiNATTI, NattiVidad), Natti Natasha has created some of the most memorable and trending moments in Latin music and is a force to be reckoned with. In February 2022, she released a historic collaboration with fellow Dominicans stars El Alfa and Chimbala, creating one of the year's newest bangers, "Wow BB". The collaboration represents the union of Dominican culture in all its glory, celebrating the rhythm and energy that can only be produced by the union of these three Dominican powerhouses, showing the world what Dominican Pride is all about! Natti rolled into summer 2022 with a historic collaboration with Daddy Yankee and Wisin & Yandel, "Mayor que usted", which earned No. 1 status on Billboard's Latin Airplay, and Latin Rhythm Airplay, making her the 4th female artist with the most No. 1 hit singles on Billboard's Latin Airplay chart. She followed suit with a call out to all Latin American countries, with "Lokita", yet another global anthem, and her most recent solo musical explosion, "To' Esto Es Tuyo". A definite set-up for what's to come in 2023.
An artist whose music has transcended time, Natti continues to break stigmas with powerful messages of empowerment and continues to create a deep connection with fans by showing a deep commitment to her culture, becoming, without a doubt, one of the most popular Latin artists and influencers of this generation. It's her season year-round.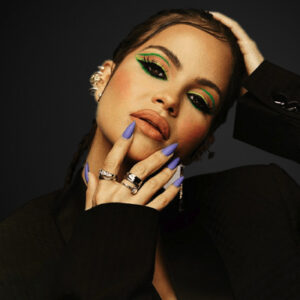 Natti Natasha
Considerada una de las principales precursoras del movimiento femenino en la música urbana.
Recibe en tu correo nuevos videos, música, noticias y fotos exclusivas.